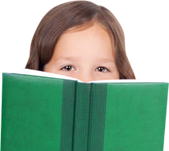 Grasshoppers (3-5yrs)
The Grasshopper room is based within Park House, adjacent to the nursery at Amen House. The Grasshopper pre-school offers the same 'Outstanding' quality of care and education that families have become accustomed to at Incy Wincy's nursery.
The room is a light, bright space which has lovely views looking out over Bedale Park. The pre-school staff team are supported by Abi, a qualified early years teacher who has a wealth of experience with this age group. The staff plan and adapt for each child's interests, needs and their stage of development. We encourage independence by allowing the children to select their own resources from the shelves for each planned activity, and then return them when they have finished. This independence is also encouraged throughout their daily routines, for example putting on their own shoes and coats, washing hands, and spreading butter and peeling and chopping fruit at snack time.
We have a number of different areas where we support activities with resources that are appropriate for this age group. Our large construction area has both large and small wooden blocks, a train track and small world animals such as dinosaurs and farm animals. Our role play area allows children to bring their ideas to life; dressing up and acting out characters from books, films or their own real life experiences. In addition to the things that families may expect pre-schools to have, the Grasshopper children benefit from some wonderful extra tools for learning. The SMART board allows them to research the wider world while learning to use the technology that will form a huge part of their lives. The 'hideaway' is a lovely area to escape to when children need time away from the hustle and bustle of the main room; they can even have a sleep, if they wish. The craft table is always busy with mark making, cutting and sticking or play dough activities.
Within Park House there is a dedicated art studio, which is shared with the rest of the nursery. This fabulous, double height space is equipped with a wide range of art and craft materials as well as a woodwork bench, where the children can create all sorts of masterpieces to display and take home!
Our family room is also located with the building and has a variety of uses. Each month the team runs a 'Parent Cafe' for Parents to come along, have a coffee and cake (made by the children!), and enjoy a relaxed chat, either to share ideas and tips, or hear about new developments within the nursery. Emma hosts her baby yoga and baby massage courses in this room too. The family room is also a quiet, private space where parents and staff can meet to discuss the children's development and planned next steps, if needed.
Please call in if you would like to take a closer look or talk to us about reserving a place for your child.
Click to download further information and click here for our 2019-20 fees.