Links between the Leaves
Posted on October 02, 2023
It is interesting to see how many patterns are repeated in nature that people will use everyday. Those patterns so often seen in activity books, iPad apps and flashcards that promote children's pre-writing skills; why does it need to be so static. Children love movement, they like to share what they know linking earlier learning to something new. Of course they will need to refine their movements and identify patterns as they progress to school but for now they can just play around with these.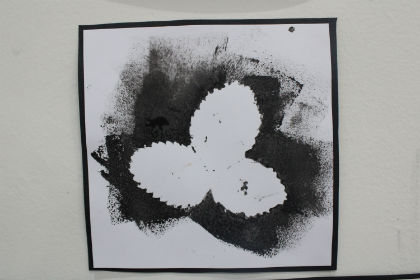 Taking the patterns we see around the edge of a leaf our Dragonfly children have been zig-zagging, spiralling, enclosing and more; replicating oak, strawberry, nettle and beech leaves. As they work the children talk about the leaves they know, their observations and we support by expanding the vocabulary. They use their index fingers like a pencil or pen, some use two. There is no pressure, no right or wrong, just experimenting. They are not aiming to create a finished artwork, they are happy to brush over and do it all again, and again, and again...
Later out in the park & garden the children then link back this learning to the leaves once more, and the cycle will continue, linking learning to activity, to language and more learning.
Do you have a plain tile left over from a house project, a little paint and brush or mini roller?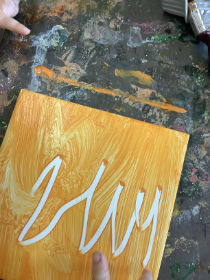 Why not offer this simple activity to children, let them play around in the paint, you can have a go yourself to show your little one all the possibilities there are.
Plain tile
Cover in paint by painting side to side evenly
Provide apron or shirt if your child prefers to wipe hands on clothes before getting to the tap!
Sit with them and narrate what they do, 'round & round & round', 'up, down, up, down', 'zip-zag, zig-zag', to identify the patterns they make.
Brush over again for another go
If they, or you would like to keep a mini-masterpiece simply find some plain paper (even the brown paper packed in parcels will do), lay it gently on top then "pat, pat, pat" and peel off.
You could collect leaves, put them close by, let your child observe the features and see if they link this to the movements they make.