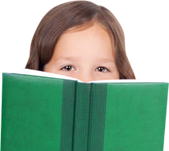 Ladybirds (2-3yrs)
Our Ladybird room caters for children 2 to 3 years old and sits within the annex building in our lovely, rear walled garden, with direct access to the outdoors. In this Grade II listed building, our room leader, Megan, and the team provide care for up to 15 children.
It's here in Ladybirds where some of the staff are trained in 'schemas'. Schemas in children are play 'urges', such as hiding, climbing, spinning around, hanging upside down and throwing objects. They allow children to construct meaning in what they are doing, problem solve, question, imagine and find out more about the world around them. Understanding these patterns of repeated behaviour helps our staff to identify and plan activities and experiences that can stimulate individual children's interests/urges and can, in turn, support the assessing and planning for the children's next steps in development.
The room is set up into four distinct, but flowing, areas: the home corner is where children can role play day to day activities, such as pouring cups of tea or feeding the baby; the story den is the calmer area of the room where we read to the children either in small groups or individually, or they can read to each other; the water trough is where children can engage in water play, filling and emptying, and where they wash hands at meal times; and the messy but fun art area is a hive of gloop, paint and play dough activity, to develop imagination and independent learning.
One of the children's favourite daily activities is the 'song box', filled with props for them to choose from and then sing a nursery rhyme about. For those children who want to sleep - usually after lunchtime - they can find a comfortable spot in the quiet, story den area. They also enjoy access to Bedale Park for walks in the woods and the occasional bear hunt! We love to involve the children in the community around them and will often visit the town market stalls and shops to buy produce, as well as take trips to the local library.
Twice a day, children have free flowing access from inside to outside, under staff supervision. They can alternate between quieter activities inside or more energetic play outside.
It's in the Ladybird room that we start to support and encourage use of potties at nappy change time, working closely with parents and following the routines they've established at home. This independence and learning is also encouraged through self care routines such as dressing and taking off and putting on shoes, and at mealtimes when children can self-serve food and drinks and chop fruit using age appropriate cutlery.
Staff continually complete observations in all areas of EYFS development (e.g. communication and lanquage, maths and literacy, understanding the world), and use these observations to plan the next stages of development for each child.