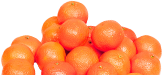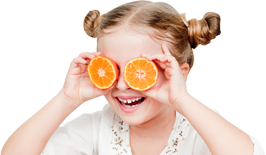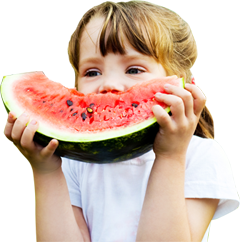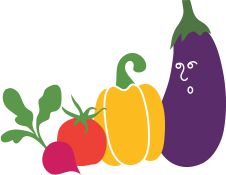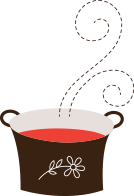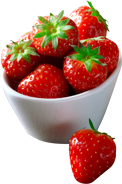 Delicious, Local Food
We are really proud of the food that we cook here at Incy Wincy's. We try our best to use local produce, sourcing the majority of our vegetables, cheese and fish from Carricks and our meat from Cockburn's butchers. Organic milk is supplied fresh by Acorn Dairy in Archdeacon Newton. The children also grow seasonal vegetables in the nature garden. We have acquired the secret bread recipe used by the Queen's baker so the children are often eating "Royal" bread.
Allergies and food intolerances
At Incy Wincy's, we aim to cater for children's individual needs. As all of our food is freshly prepared, we are often able to ensure that all children with a food intolerance can enjoy the same meal; for instance, we are able to bake scones without eggs. If your child has an allergy or food intolerance, please call to discuss your child's requirements.
Our 'Yummy Food' Menu
Our Nursery Chef works with the senior staff team at Incy Wincy's to ensure that our 'Yummy Food' menu provides a variety of healthy, nutritious meals that reflect the best, freshest produce on offer each season. For our tiniest diners in the Caterpillar room, a seasonal weaning menu has been developed showing the purees and first foods that will be on offer. As the babies try new foods, Emma will update their individual Weaning Diaries.
Some of our testimonials:
"Incy Wincy's has provided my son with food that he loves and helped him explore food he isn't sure about!" - Parent of Dragonfly room child
"As a full time working mum, I have confidence that my child's nutritional requirements are being more than catered for by the staff at Incy Wincy's." - Parent of Out of School Club child
"The food at Incy Wincy's is exceptional. The quality, the variety of menus on offer and the nutritional values are consistently of the highest standards. We also love that the children are involved in growing the fruit and vegetables. The food really has helped both of our children develop very healthy relationships with food, which we are extremely grateful for." - Parent of Ladybird room child
"They eat very well and are introduced to such a great range of foods and flavours." - Parent of Caterpillar room child
'Eat Better, Start Better'
Every meal that we prepare is made with under 5's nutrition in mind. Our three week menu rota is built around recipes that have evolved from the 'Eat Better, Start Better' programme and also from the 'Essential Early Years Cookbook', from the Pre-school Learning Alliance.
Click here to download all of our menu's