This Way, That Way!
Posted on August 17, 2018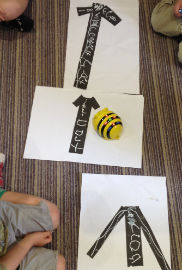 The older children have had a busy week preparing for our annual Leaver's Celebration being held in the gardens at Incy Wincy's tomorrow. We are confident that all our guests will now be able to find their way to the Mad Hatter's tea party by following the children's handy arrows they created this week.
Of course we always see the learning value in any activity and this week has been no exception as the children built up their arrows using simple shapes and used our Bee Bot to test them out. The group confidently used lots of directional language "forwards", "backwards", "right", "Left", "steer round". They estimated the number of moves the bot would need to make to reach the end, taking turns to programme him and adding the numbers together as they went along.
We look forward to seeing our Dragonfly leavers tomorrow afternoon as we celebrate their time at Incy Wincy's and all the things they have achieved - each has a wonderful, unique personality to match their wonderful & unique signs!