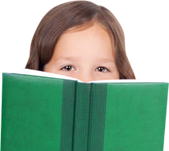 Caterpillars (0-1 year)
Our cosy, intimate baby room offers just five places, allowing our specialist team to offer a truly personal service to families. Our dedicated staff team have chosen to work specifically with babies and they are passionate about developing their skills and knowledge around the support babies need to thrive in these crucial first few months. The Caterpillar team focus on the three prime areas of development; Personal, Social and Emotional Development, Communication and Language, and Physical Development.
Our Room Leader, Emma, qualified as a Baby Massage Instructor in 2015 and followed this up training in Baby Yoga in 2018, she can use her her skills to help soothe away the discomfort of teething or colic that babies often experience. Emma also runs regular courses for parents to join, or for those preferring a more individual service one to one sessions can be arranged.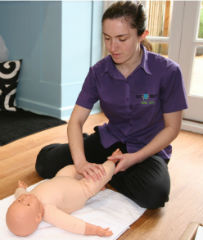 Our indoor environment has been carefully considered with babies' physical development in mind. In their early days at nursery, babies will benefit from our underfloor heating as they spend much of their time on their backs and tummies. Mirrors have been placed at low levels allowing the babies to see their reflection and link their movements to what they see. It can be tricky to perfect the art of sitting but our soft cushions and fluffy rugs provide a safe surface to practice on. The room offers plenty of space for babies to practice rolling and crawling, and with growing confidence they can then use the low level furniture to pull themselves up to standing and cruise around.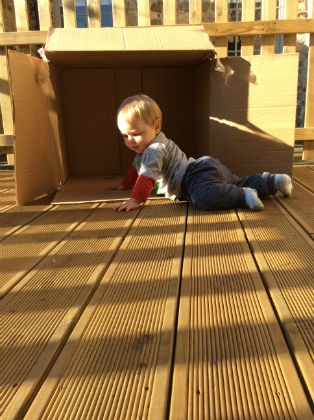 The French doors are a feature of the room, allowing the babies to crawl out onto their own decked area where the mirrored water feature, fresh herbs and wind chimes offer plenty of sensory stimulation. Our location is ideal for the babies to enjoy plenty of fresh air, walking directly into Bedale Park from our gardens means there are daily walks and time for the little ones to lie under the trees.
Inside, our knowledgeable staff team carefully select items that will stimulate a baby's curiosity and encourage early exploration. Collections of everyday objects invite babies to investigate textures, tastes and sounds. Staff are always present; they engage with the babies through singing, and using gestures and signs to build the foundations for conversation.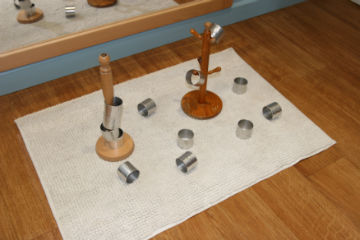 When ready to rest, our sleep area, with its twinkling lights and lavender bunting, offers the perfect place for babies to snuggle up in a Dream Coracle listening to lullabies played through the nursery sound system.
Alongside nappies, wipes and creams, our nursery provides Kendamil formula & cereals for babies, selected as they share many of our beliefs. For mothers who wish to continue breastfeeding, we will support them to continue this; a comfortable feeding chair in a calm, quiet space is ready for any mummy popping back to feed their baby during the day. Our nursery chef provides freshly prepared purees as babies are weaning, and he is happy to talk to families about the introduction of foods when the time arrives.
Emma and her team will spend time talking to each mummy and daddy to find out everything she needs to know to meet each baby's individual needs. During the home visit and settling in sessions, parents will also learn more about the individual staff and build those all-important trusting relationships. Once baby is settled, their key person will continue to communicate with parents. A personal handover at the end of the day is supported by an electronic daily diary, emailed to families also at the end of each day, while the babies' development is shared through our online Learning Journal.